(Updated) unMineable: Full Funtionality Mining Software, Mine Dogecoin on Windows
unmineable for mac, how to mine dogecoin using unmineable
---
Introduce
unMineable is a full functionality mining cryptocurrency software, it supports over 40 types of cryptocurrency mining, including bitcoin, litecoin, monerocoin, dogecoin and so on.
Requirement
unMineable now only supports 64-bit Windows.
macOS user can readthis articleto learn how to mine cryptocurrency.
Download
Openthis page, then click theleft-sidegreen button to download.
If the click redirects to the home page, you can try to click the right-mouse-button then choose "open in new tab".
Steps(Example for dogecoin)
Decompress the zip file and run unMineable.exe. Clickcontinueto the next step.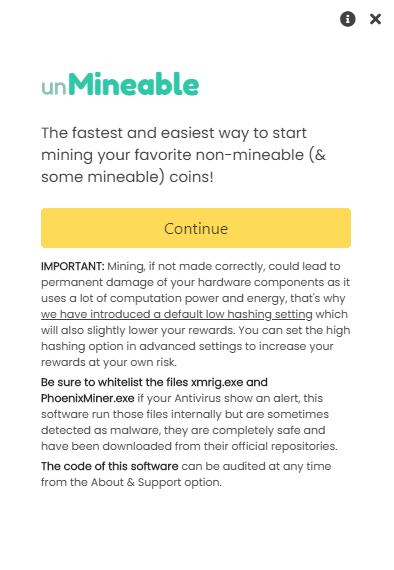 Select GPU or CPU to mine. For example, I select CPU and didn't modify the Miner Location. Then click the next button.
Select dogecoin first. Input your wallet address and input8jjv-jipuas referral code, referral code will reduce the mining fee to0.75%, origin fee is1%. Then click the start button.
On this page is means you are already start mining. Wait a moment will display theHashrate.
Withdraw Dogecoin
Click theStatsbutton will open a web page.
Click the Pay now button. But as least you had mine 30 dogecoins.